I had a discussion with my friend Adam recently about the Inktober challenge I had done & also a challenge that he had posted on Facebook referring to the game of Being Seen. Part of what he was wanting to make people aware of with this challenge was that many people have the same (smiling/happy) profile picture for years or some people may be hesitant to post an unflattering/unedited picture. This essentially is an incomplete representation of the multifaceted & complex people we truly are. (For that matter, how many of your friends are paying attention? Or take the time to comment? What do they have to say about your expression that day?)
THE PROBLEM: Adam is a Life Coach!
Now this is of a very positive pickle to find myself in. A constructive conundrum! I know when speaking with him that he is always encouraging people to go for it & aim higher! I want to be able to say "I did it!" when I see him next.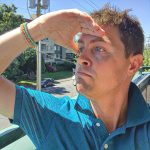 Adam, always aiming higher!