I'm This week's blog post is brought to you by the color, Orange.
This morning everyone in our little part of the world woke up to strange orange light glowing from the sky. It felt like I was wearing aviators sunglasses or was somehow trapped in a sepia photograph.
Here is a beautiful example captured by my friend and local photographer Alan Klughammer.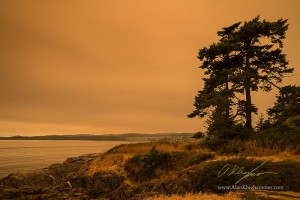 The unfiltered orange colour of sunlight through wildfire smoke. Photo credit: Alan Klughammer