I sketched these lovely ladies for the Summer of Color blog party, week 2. The color prompts for this week are Pink + Pink + Orange.
In my search for a subject that would reasonably translate to these colors I saw many works of girls and women with pink and orange peach skin, pink clothing and auburn hair. Bingo!
I have always admired the classic sketches of women by artists such as Leonardo DaVinci (indisputably a genius!) but I have yet to master his subtlety. I have made attempts to learn from copying his work before but decided to look a little farther afield when I came across a red chalk sketch by Edward Burne-Jones. Red, pink, orange. They're all the same family, right?
Most of the models used by the Pre-Raphaelite Brotherhood had a very distinctly stylized look to their lips, nose and jaw line. I got close with the lips but I still have more practice ahead of me.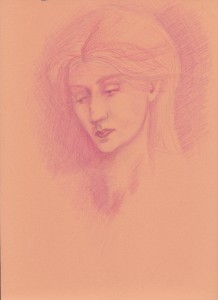 Sketch of a woman based of work of Edward Burne-Jones. Pink & orange pencil on orange paper.