Words, hand lettering and script.
On my Pinterest page I have pinned a number of pieces of art that I find inspiring or have elements that I would love to experiment with. (Come on… admit it! We all have scads of pins that we've never tried to make). There are many with words, hand lettering, script, fonts and typography. I love the visual impact of large scale hand lettering and the mystery of incomplete words or faces.
Such as the works of Florian Nicolle aka Neo.
A few weeks ago I decided to make a couple of Secret Santa gifts, rather than purchase them. What better than to knock off some pinterest inspiration!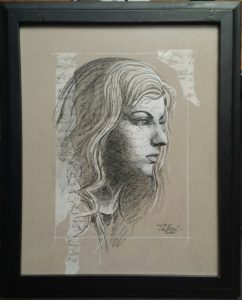 Kayleigh. Mixed media portrait, charcoal, chalk, ink and paper. 8″ x 10″.