Family time at the Outdoor Painting Challenge
This was the first year that I was able to participate in the Opus Outdoor Painting Challenge in Victoria.
It landed on Mothers Day this year and I thought that might be an obstacle until a light bulb went on "Ask Mom to do it with me!" and fortuitously my daughter asked to come along as well. Best ask my sister too.
relax and indulge yourself with art
pay attention to Mom
spend time with daughter
girl-time quartet
Pray for dry weather and . . . what am I missing?
. . . That's it – all the men in the family.
But aren't we lucky? They have volunteered to make a full – on dinner for us! Excellent, the day is coming together.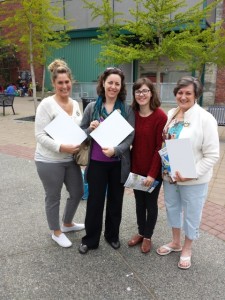 The Artists gather with their blank canvases supplied by Opus for the Outdoor Painting Challenge.